Who is Harold Steele?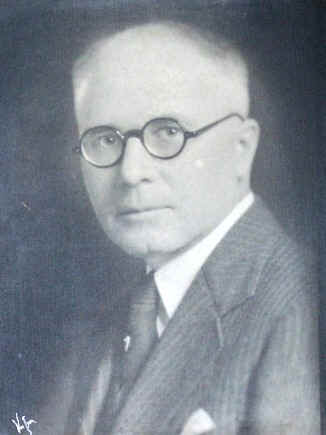 Harold Steele was elected superintendent for the Tucson Unified School District after S. C. Newsom resigned in 1916. Harold Steele remained the superintendent until the spring of 1918. On the TUSD history site Harold Steele is listed as the 17th superintendent, with some of the earlier office holders being brief interim superintendents.
Before becoming the superintendent, Harold Steele was the principal of Tucson High School, which is the oldest operating public high school in Arizona - first established in 1892 and then re-established in 1906. In 1906 Tucson High School was briefly housed in a two-room building at 1010 E. 10th Street (the site of the current district offices), and then the high school moved to what is now Roskruge Bilingual Magnet School. It was at that location that Harold Steele was the high school's third principal starting in 1909. Harold Steele was specially noted for using specialized teachers for subject classes rather than have a single teacher teach all subjects.
Harold Steele organized the first Boy Scout troop in Tucson on April 20, 1911, when he was in his first year as the principal of Tucson High School at what is now Roskruge Bilingual Middle School.
Steele Elementary School was built from 1960 bond funds. It was originally built as a 20-classroom building at a cost of $459,165. Harold Steele came to Tucson for the opening of the school in 1962, and he left $33,754 in his will for the school when he passed away in 1969.
Tucson High School 100th Anniversary in 2006
TUSD History
The Otis H. Chidester Scout Museum of Southern Arizona, Inc.
A 1912 photograph of Harold Steele with his wife, Lucile, is on the Scout Museum Site.